SOPHIA GOURLEY '19
FEATURES EDITOR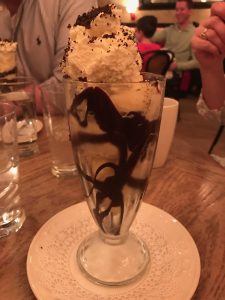 Located in the heart of West Hartford Center, Grant's offers a lively environment for patrons to enjoy delicious American dishes with fresh ingredients. The restaurant is the perfect balance between a causal and formal atmosphere, with a welcoming vibe and sophisticated décor. Grant's is a great place for a celebratory meal, or just for a quick lunch. According to their website Grant's features, "American comfort with a touch of class. This description couldn't be more fitting for this incredible restaurant.
The menu features a variety of American favorites, ranging from burgers and salads to seafood and poultry. Appetizers such as "New England Clam Chowder" and "Rhode Island Fried Calamari" are among some of the most famous and most delicious offerings on the menu. For those looking for a different type of appetizer, Grant's "Artisanal Cheese Board" and "Salumi & Cheese Board" provide guests with a variety of local French and Italian cheeses paired with high-quality meats. Both cheese board options are served with honey, bread and a variety of fruits and vegetables. In addition, smaller dishes such as the "Baked Mac'n Cheese" and "Parmesan Truffle Fries" make great sides or starters.
For main courses, Grants provides something for everyone. Entrees such as "Pistachio Crusted Idaho Trout" and "Pork Chop Milanese" are great for customers looking for a hearty meal. There are also a variety of sandwiches, burgers and salads. The restaurant prides itself on using local ingredients to bring the freshest options to its customers. For dessert, Grants offers a variety of home-style favorites including apple crisp, ice cream sundaes and different types of cake.
Chef Billy Grant is also owner of Restaurant Bricco, located in West Hartford Center, as well as Bricco Trattoria, located in Glastonbury. Both of Billy Grant's other restaurants feature Italian classics in addition to American food. Not only does he run these fantastic restaurants, he supports 15 charities such as Make a Wish Foundation, Let's Move and March of Dimes.
Unlike many other West Hartford restaurants, Grants takes reservations! Make sure to call ahead, as it can be very busy around dinner time, especially on the weekends. The restaurant is very accomodating to large groups as well, so definitely keep Grant's in mind next time you go out.