GRANVILLE KAYNOR '21
STAFF WRITER
Trinity College's Campaign for Community unveiled their first draft of Trinity's historical timeline, to be displayed at the Cave, on Tuesday, Feb. 27. The timeline, which was introduced by Alicia Abbaspour '18, was co-created with Tyler Wrenn, a former Trinity student in the class of 2019. Ms. Abbaspour's introductory remarks touched upon the breadth of the stories, which represent the plurality of experiences at Trinity, included "stories from 1823 until the present." Ms. Abbaspour believes that an understanding of Trinity's past is critical for envisioning its future, adding that the timeline "commemorates the people who broke through barriers and achieved milestones throughout our history." The timeline focuses on critical events in the history of Trinity's development, from key historical traditions from its founding to important moments in Trinity's shift to diversity, recognizing the first African-American student and the first female professor at Trinity, among others. Ms. Abbaspour hopes that students will review the timeline and contemplate where their story fits in this broad array of experiences.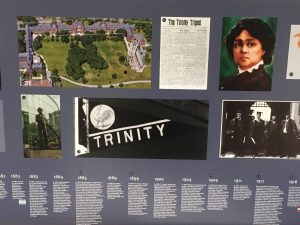 President Berger-Sweeney also spoke during the event. Ms. Berger-Sweeney lauded the effort of Campaign for Community students and Ms. Abbaspour in particular, adding that they have turned what was "an idea into an actuality." Ms. Berger-Sweeney reflected on the project's relevance to the recent value statement approved by the Board of Trustees, which focused on creating "bold learners, an inclusive community, and promoting engaged citizens." Ms. Berger-Sweeney went on to reflect that the timeline serves as a "reminder of who we are and who we need to be" and closed with the hope that the timeline might encourage a greater understanding of Trinity's past.
The Tripod sat down with Ms. Abbaspour and sought her comments on what the timeline meant to her personally. Ms. Abbaspour explained that this was "one of my final contributions as a member of the community" andfelt that it was an excellent way to leave a positive mark at Trinity. Ms. Abbaspour added that she hopes that the timeline represents a "commitment to inclusion, a bettering of culture, and a hopeful future for the school."
The timeline is presently on display in the Cave. Ms. Abbaspour mentioned that the project developed as a result of students seeking to make the Cave a location that embraces the plurality of Trinity's student population. Students are encouraged to leave feedback on additional stories, changes, and other recommendations.