BRENDAN CLARK '21
STAFF WRITER
Acts of property destruction targeted at minority communities on Trinity's campus have led to a considerable concern regarding Trinity's underlying culture. In October, two separate incidents—both involving the desecration of flags—became the impetus for many students to increase calls for change and respond to what they consider a "hostile climate" at Trinity that "makes us feel as if we are not wanted," said Kaylen Jackson '21, member of the Multicultural Affairs Council (MAC).
The first incident occurred in the evening over Trinity Days at the Queer Resource Center (QRC). A rainbow flag, synonymous with the LGBTQ+ pride movement, was ripped down and taken by a group described as "intoxicated female students returning from The Tap," according to Anya Forsberg '19, the President of Encouraging Respect for Sexualities (EROS). After someone noticed that the flag was missing and confronted the students, they returned the flag and left. The flag's metal pole was completely destroyed and was subsequently removed by the school. Ms. Forsberg added that a security officer "said he had seen the incident occur but felt it 'wasn't his place to interfere.'" Forsberg reported the incident and an investigation commenced; however, the suspects were unable to be identified. Forsberg was told that the officer had been spoken to and that "he now understands it's his job to report these situations." Forsberg said that she was not surprised that an incident such as this occurred at Trinity, adding that when the matter was discussed with EROS members, "none of us saw this as unexpected of the Trinity campus."
A second incident occurred a week later, when an individual began tampering with a rainbow flag hung on the door of the QRC while a group of students observed. However, a MAC member intervened and the flag was left undamaged.
On the same evening of the first incident, a second act entailed the removal and destruction of a Dominican flag belonging to Silvia N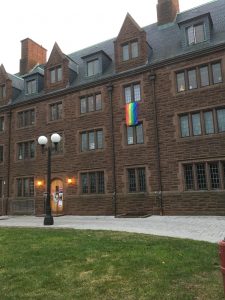 unez '21 was removed and destroyed. Nunez had hung the flag from her window, whereafter it was ripped down and torn by a group of Caucasian men. Nunez had an opportunity to review the video footage and noted that the men were "jumping up for some time to try to rip it down." Nunez, who reported the action to Campus Safety, was told that the "video evidence was inconclusive" and that the suspects could not be identified. Nunez thereafter met with Dean of Student Life and Vice President for Student Affairs, Joe DiChristina, Dean of Multicultural Affairs and Senior Diversity Officer, Karla Spurlock-Evans, and Director of Campus Safety, Brian Heavren, to address her incident.
Dean DiChristina responded to both incidents by email on Oct. 20, stating that "Trinity College highly values its diversity and expects its members to demonstrate mutual respect and support for all. In this particular moment, we wish to affirm especially our LGBTQ+, Dominican, Latinx, and international members." Nunez remains unsatisfied with the response and finds that everything about the process "is so upsetting, so frustrating." The incident was reported as vandalism, but Nunez would like to see it reported as a hate crime. "I am so angry—people say that we understand, we are going to fix it, and nothing gets done," she added. Jackson agreed, saying that "students of color on Trinity's campus have to fight for recognition and respect to no avail."
The MAC launched a poster campaign which sought to inform the community of the discriminatory actions and express support for the injured parties across campus. Chairman of the MAC, Brandon Herrera '19, stated that "the recent detestable acts of discrimination and hatred are unfortunately representative of the many similar instances that happen on this campus throughout the school year at alarmingly high rates." Nunez later brought her matter to the attention of the Student Government Association, speaking at the Nov.19 meeting about her difficulties with the investigative process and appealing for administrative support.
Many continue to find themselves frustrated and disappointed at what President Forsberg calls the perpetuation of a "safe space for hate." Herrera continued, adding that the MAC "will continue to work tirelessly to make this campus a safer and more inclusive place for current and future Trinity students of underrepresented backgrounds." Conversations remain ongoing between students and the administration on how best to address the incident, but many students remain dispirited about the prospect of change. "If someone came into your home and destroyed something you love, would you not be upset?" Nunez said.