TRIP SLAYMAKER '18
A&E EDITOR
To our millennial minds, "the new twist on an old classic" is about as contrived as the old version itself. But when
Into the Woods
premiered on Broadway in 1987, the sharp, at times brutal retelling of fairy tale classics struck a cultural nerve.
The first run of the ac- claimed show with owing, rapid-fire music and lyrics typical of Stephen Sondheim was an immediate success. Part of the show's appeal was that it played on and subverted the expectations of the audience. James Lapine's book told the stories of the fairy-tale characters as essentially familiar in the first act, sending them all down surprising, depressing, adult plot holes in the second half. Themes of sexuality and death that were only hinted at in the old Grimm stories become fully present in this darker, more melodramatic vision of a common theme.
Some have interpreted the struggle of the assembled characters against a vast, unbeatable enemy that leaves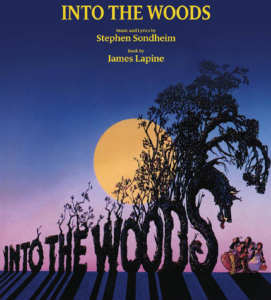 only devastation in its wake as a parable of the AIDS crisis, an analysis supported by the high death toll of the years around the show's first production.
Bernadette Peters re- mains most inextricably entwined to the original production. Her portrayal of the witch who drives the majority of the play's events has influenced later productions very deeply. Even acclaimed actress Meryl Streep's take on the same role in the 2014 film version drew comparisons to the original Peters version.
Each new production brings its own interpretation of the show's nuances. The doubling of certain characters, for example, can indicate a psychological duality that changes the subtext of the show. Regardless of the show's comparative emotional depth, it has never left the spotlight of musical theater anywhere in the world.
Even at Trinity, the same show was performed relatively recently: Austin Arts Center was host to another production of Into The Woods in the fall of 2013.
The Trinity theater and dance department production of the show will be performed in the Goodwin Theater again this March 1-3, in a production directed by Julia Kiley.